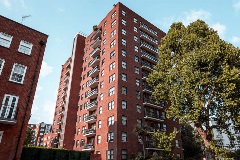 Construction and Infrastructure
Robins Appleby provides advice on construction contracts across a spectrum of delivery methods: Stipulated Price, Construction Management, Construction Management at-risk, and Design-Build.
The group also deals with other forms of construction and development-related contracts such as Crane-Swing Agreements, Tie-Back Agreements, Limiting Distance Agreements, Architect, and Consultant Contracts.
The lawyers at Robins Appleby have advised clients on OAA, CCDC, and various types of construction contracts related to modular construction.
Our Affordable & Social Housing co-leads have hands-on experience with construction projects as general counsels of Toronto Community Housing Corporation (TCHC). Moreover, John Fox directly managed large projects as VP Development of TCHC and as President of Batawa Development Corporation. This operational knowledge allows our lawyers to provide practical and strategic legal advice on your construction projects.