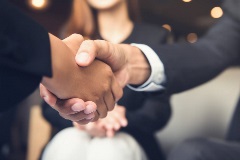 Business and Transactions
Business owners face constant challenges. As business advisors, we assist business owners in developing and achieving their objectives in an often complex environment by providing creative and practical solutions. Our entrepreneurial approach assists our clients to evaluate their risks and capitalize on their opportunities.
Our team of lawyers stands out from the competition because:
We have a narrow focus. We focus on five industry sectors—Agri-Food, Biotech, Manufacturing, Pharmaceuticals and Wholesale and Distribution—this means that clients get deeper expertise. Clients benefit from our broad experience in a series of narrow focus niche industries.
We're nimble. We understand that courses alter, priorities change and opportunities evolve. If the situation warrants, we can course-correct or change plans and go in a different direction entirely because our team of lawyers is nimble.
We're client-focused. Our clients and their goals are always top-of-mind. We communicate clearly and apprise you of developments every step of the way. We're efficient. We're transparent. At Robins Appleby, our clients are never just a file number or a project. Whether the relationship is new or goes back decades, we care deeply about our clients and are committed to their success. We apply the right energy and the right resources at the right time.
We draw upon our own expertise and experience; and that of our colleagues at the firm including:
We offer great value. We don't "over-lawyer" a file, we deliver great value to our clients. Our clients appreciate this cost-effective approach.
Call or email us now to discuss your opportunity.