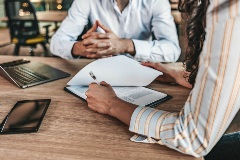 For employers, it is important to consider how a properly drafted employment agreement can add significant value to your business and minimize potential losses. They create predictable frameworks for employers and employees and incentivization programs for employees that foster productivity, loyalty, and firm culture. They also provide expected outcomes when the employment relationship terminates.
The employment agreements exist within a legal framework constrained by statutory requirements. As such, the employer and employees' ability to freely negotiate the terms of employment can be constrained with draconian results. Employment agreements that violate the statutory requirements can be nullified in their entirety without saving those provisions which do conform. We assist employers with preparing and negotiating executive employment agreements with key employees, and standard employment contracts or letters that employers can use when hiring its employees that meet the employer's business needs while conforming to the statutory requirements.

We also assist employers in preparing employee incentive programs such as stock option plans, phantom stock option plans, and profit sharing plans.

We also assist executive employees who are negotiating the terms of employment agreements. For all employees, we provide significant value when we review employment contracts or employment letters by explaining the offer, recommending changes to the offer, assisting the employee with negotiating changes, or negotiating on the employee's behalf.

We routinely advise employers and employees alike and help develop or negotiate restrictive covenant agreements, such as non-competition, non-solicitation, non-disclosure, and confidentiality covenants. We understand the limits of these restrictive covenants and assist employers with a strategy to protect themselves from the risks of departing employees.

Employers will often wish to make changes to their employment relations with a key employee or across their workforce in the midst of ongoing employment. Ontario statutory and common law provides limitations from doing so which can nullify these changes. We give employers tactics to overcome these limitations.

Whether you are an employer or employee, we look forward to helping you with your employment agreements, offers, incentive plans, and other ancillary employment agreements.