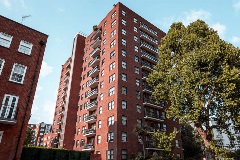 Real Estate and Development
Our Affordable and Social Housing lawyers regularly advise non-profit housing providers and housing co-operatives that are looking to expand or are developing new projects.
As project counsel, we draft and negotiate purchase agreements, joint venture and limited partnership agreements, prepare letters of intent, review title, draft complex project agreements, and oversee closings.
Our Affordable and Social Housing team includes commercial real estate lawyers, who have expertise and experience working with both public and private sector clients on a broad spectrum of real estate transactions including acquisitions and dispositions, co-tenancies, limited partnerships and other joint-venture arrangements, financings, and commercial leasing. As well, our lawyers routinely advise clients on negotiations with municipalities on various agreements including site-plan agreements, Section 37 agreements, funding contribution agreements, subdivision agreements, and settlement agreements arising from zoning by-law amendments and minor variance applications.