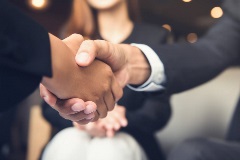 Increasingly, privately owned, fast-growing businesses are turning to private placements to raise capital to keep growing and expanding. The private capital markets lawyers at Robins Appleby excel at drafting the private placement agreement, addressing the full range of requirements of our clients who fund-raise in private capital markets.

We advise on all aspects of exempt market requirements, regulation and compliance, and due diligence. We help our clients close private capital deals efficiently and with acuity.

We also offer strategic advice to: private companies; investment banks; issuers; venture capital; and private equity funds.

Our private capital markets lawyers provide the following legal matters to help our clients:

Fund formation and private capital market investment vehicles;


Preparation of limited partnership agreements, subscription agreements, and other fund documents;


Advise on venture capital financing, including Equity and debt;


Regulation and compliance – Exempt Market Dealer (EMD) compliance;


Advice on Corporate governance, issues;


Tax;


And a broad range of securities and corporate finance advice