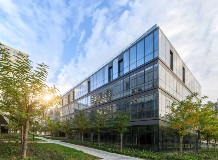 Condominium Development and Sales
The Condominium Group at Robins Appleby has been assisting developers, both large and small, and experienced and new builders, with their condominium projects for over 35 years. Our experienced team of lawyers and clerks have seen tremendous growth in the number and complexity of condominium projects over the years, firstly in Toronto, then in the GTA and now across Ontario.
Our team of seasoned lawyers, clerks and assistants work with developers from the moment they seek to acquire a site, and then assist them and their municipal legal and planning team through the rezoning and development process.
We add value at the HCRA and TARION application stages, as we have significant expertise in dealing with the registration and security issues with both organizations. The recent establishment of HCRA has added a level of complexity and challenges to developers. The Condominium Group, led by Leor Margulies, has excellent relationships with both organizations and can open doors which quite often, remain closed to others. Leor's over 20 years on the Board and numerous committees of BILD have helped him establish strong connections and credibility with the regulatory authorities.
Condominium Team
Developers need a strong and experienced team familiar with the ever changing landscape of legislative and regulatory requirements for condominium projects. Robins Appleby can provide both practical and creative solutions to issues for all sizes of projects.

We have significant experience in all types of condominium development including:
complex mixed-use projects such as the iconic 1 Bloor Street East Project developed by Great Gulf;
a standard condominium within a common elements condominium for stacked/mid-rise and freehold projects combined in one development;
phased projects involving inter-connected buildings or a series of buildings where phasing makes the most sense based on timing and efficiency, such as the first Ontario golf club course condominium, The Sixth by Kylemore Communities; and
simple freehold common element condominiums for towns and singles which have become extremely popular over the last decade
Our team works with the developer and its marketing team to create the disclosure package and agreements of purchase and sale used to launch projects, and then manages purchaser relationships, deposits, deposit releases, and all other aspects of the condominium project.
Together with our financing team, we assist developers in negotiating financing arrangements and coordinating bonding facilities with the deposit insurers for whom they also represent.
Finally, when the buildings have reached occupancy, our team is there to close occupancies and complete final closings. We have completed projects of 100 units to 800 units. For even larger projects, we can generally complete closings over a 1 week period. Large projects like Emerald City, Emerald Park and 1 Bloor Street East are three of many large projects we have handled. Our team pulls together the necessary resources to ensure that closings can happen quickly and efficiently to pay off your construction loans and generate cash flow.
We represent a range of smaller to larger developers, but provide them all with the personalized attention and expertise to ensure the successful marketing and completion of their projects. Some of our clients include Almadev (formerly El-Ad Canada), Aspen Ridge Homes, Sean Mason Homes, HIP Developments, JD Development Group, Kylemore Communities, and the Sorbara Group
For your next condominium project, large or small, whether you are an experienced builder or a new low-rise builder venturing into the condominium world, your first stop should be the Robins Appleby Condominium Team.
Please contact Leor Margulies when seeking a legal team for your next condominium project.
Download our Condo Brochure here.