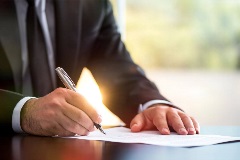 Estate Planning requires not only a firm grasp of the complex laws of taxation, trusts, and estates, but also a deep understanding of a family's needs and desires.
Having over 70 years of experience in providing guidance to High-Net-Worth and Ultra-High-Net Worth families, we are confident that we can structure an estate plan that works for you. We will guide you in developing your legacy and ensure that it is properly documented so that it can be carried out according to your wishes. We make it our job to ensure that you receive the advice you need when you need it, with regular communications from our team. It's this personal touch that sets us apart.
Call or email us now to discuss your opportunity.