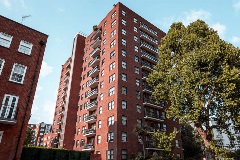 Residential and Commercial Tenancy Matters
Our Affordable and Social Housing lawyers have extensive experience in providing assistance with the interpretation and practical application of the Residential Tenancies Act, 2006.
Having worked as general counsel at Toronto Community Housing Corporation (TCHC), John Fox managed hundreds of applications at the Landlord Tenant Board, and have first-hand experience with the complexities of residential tenancy matters. Although Robins Appleby does not provide services related to representation at the Landlord and Tenant Board, our experience allows us to advise clients on residential tenancy matters and informs our ability to prepare residential leases.
Our team uses their practical experience to provide advice to developers and housing providers on unique tenancy relationships, including head leases and referral agreements.
Our lawyers regularly negotiate all forms of commercial leases – including head leases, subleases, land leases and leasebacks – on behalf of landlords, tenants and property managers. The team has experience advising on leasing matters for clients in a variety of sectors, including municipalities, and non-profit/charitable organizations.