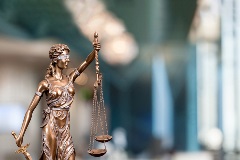 Our clients rely on Robins Appleby's litigation lawyers to step in when their businesses require counsel with experience advancing and defending claims in complex commercial litigation.
Our clients' businesses inevitably expose them to markets and industries that impose statutory and regulatory risks and restrictions, nuanced common law responsibilities and obligations, myriad contractual commitments, and personal liability.
We frequently represent clients in matters before the specialized "Commercial List" in Toronto, and have extensive experience litigating crucial, sometimes "bet-the-company" disputes. These matters raise cross-cutting legal and commercial considerations that engage legal issues at the intersection of contract, statute, and common law.
While our corporate and commercial litigation practice encompasses all aspects of protecting and asserting our clients' legal, commercial and business interests before the Courts, our clients most often turn to us for our expertise in litigating disputes involving overlapping issues relating to:
contract breach and enforcement;
shareholders, partnerships, and limited partnerships;
franchises, franchisees, and franchisors;
fraud investigations, asset recovery, and enforcement;
insurance policies and coverage; and,
banking and other financial products.
Contract Disputes
Contracting parties cannot predict all the eventualities that could arise between them when they enter into agreements. Even when contracts address events that precipitate or constitute a breach of a contract, the contract terms may be ambiguous as to how they govern the issue in dispute.
Our lawyers are experts in contract interpretation. We regularly advise clients on the validity and enforceability of contracts, arising out of misrepresentations, duress, undue influence, and limitations issues. We frequently litigate disputes involving implied contractual terms, breaches and enforcement of warranties and guarantees, and exclusion, exemption, and penalty clauses.
Contractual relationships can end in numerous ways, whether through termination, rescission, frustration, repudiation, or simply a failure to perform. We assist clients by developing litigation strategies that are customized to achieve their objectives within the limitations created by the law.
Shareholder and Partnership Disputes
Shareholders and partners in private business ventures seek out our lawyers to respond when their interests are oppressed, unfairly prejudiced or disregarded by fellow shareholders or business partners.

Conflict in business relationships can often draw attention and resources away from a company's objectives. Resolving such conflict requires experienced counsel that is well-versed in understanding the relevant legislation, corporate agreements and/or partnership agreements.
Our litigation team works in tandem with our Business and Transactions team to represent and provide advice to partners, shareholders and business owners. Our team assists in both risk mitigation and effective conflict resolution. We are experienced in providing advice on avoiding disputes in such commercial arrangements and resolving disputes when they do arise.
Franchise Disputes
Whether you are an entrepreneur investing in a franchise, or a brand owner franchising your business, this heavily regulated industry imposes regulatory and compliance obligation on the franchising parties. When these ventures break down, you need counsel that knows how to navigate the commercial and regulatory law governing franchising.
Our lawyers have experience representing both franchisors and franchisees in a wide variety of franchise disputes. We can assist you in both formal and informal dispute resolution processes, where conflict arises in the franchise relationship. We also offer franchise agreement review services to help clients understand their rights and obligations under their franchise agreement.
Fraud Investigation, Asset Recovery, and Enforcement
Fraud is a growing concern for businesses and individuals in Canada, as fraudsters increasingly use new technology to extract funds illegally. Our experienced litigators handle fraud issues involving financial institutions, private lenders, and insurers, among others.
We offer advice on fraud investigations and provide strategic legal remedies to secure and recover assets, which may include injunctions or other interim relief. In addition to our legal expertise, we have a network of investigators and forensic accountants to assist in recovering funds or mitigating damage when possible.
Our clients have retained us to assist and conduct investigations, successfully obtain Orders directing adverse and third-parties to disclose information to uncover fraud, trace and freeze assets, and recover misappropriated funds and return them once secured.
Insurance Litigation
We have a strong track record of representing clients in insurance coverage disputes including professional liability, product liability claims, and directors' and officers' liability insurance. Our lawyers often provide coverage opinions. We have handled cases involving a range of policies including commercial property, homeowners, general liability, professional liability, among others.
Our team has been retained on complex insurance cases involving insurance coverage for corporate directors and officers. We help our clients navigate the complex world of insurance law and obtain the coverage they are entitled to.
Banking and Financial Products
Our lawyers have extensive and practical expertise in the banking and financial services sector and can advise and represent clients on all aspects of contentious financial matters. Financial services are heavily regulated in Ontario and financial disputes often involve multi-disciplinary considerations, and the development of common law rights and remedies. We advise and represent clients in financial disputes in retail and commercial banking, with credit unions and mortgage lenders, payment processing entities, private wealth management, asset management, infrastructure investment, and in investment banking.
We advise and represent clients in all aspect of contentious financial services legal matters including complex financial instruments, letters of credit, lenders liability, mortgage enforcement, guarantee enforcement, receiverships, loan agreements and guarantees.
If you are facing complex commercial litigation challenges, don't hesitate to reach out to us. Our team of experienced lawyers is ready to provide personalized, strategic guidance and representation to help you achieve your business goals. We pride ourselves on being approachable, problem-solving, and skilled in finding creative solutions to close matters successfully. Contact us today to learn how we can assist you.