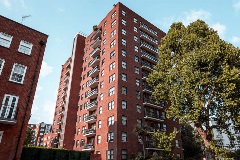 Affordable and Social Housing
It's not easy to develop and run affordable housing. We're here to help.
Robins Appleby is one of the only law firms in Ontario with a dedicated Affordable and Social Housing team. The team is led by a former Toronto Community Housing Corporation General Counsel: John Fox. The Affordable and Social Housing team assists the housing sector in providing social and affordable housing across the Province of Ontario.
The hands-on in-house experience gained by our Affordable and Social Housing lawyers provides us with a solid understanding of the practical needs of our clients. This allows us to provide strategic legal advice that meets client needs in a timely and efficient manner. When we say "strategic," we mean we understand that our advice is given in the context of multiple competing interests, including tenants, municipalities, and lenders.
Our lawyers have a deep and diverse experience with an array of stakeholders in the real estate sector. Together, our knowledge of the housing sector and of private development allows us to facilitate partnerships and be aware of the needs and motivations of both private and non-profit parties, which, in turn, helps us develop innovative housing solutions with our clients.
Our lawyers regularly provide strategic legal advice on all aspects of housing matters, including the establishment of corporate structures such as partnerships and land trusts, implementing amalgamations, mergers and consolidations, and advising on tenancy matters.
From the application of housing-related legislation, to governance, to real estate development, to construction, to operations, our lawyers have delivered advice to housing sector clients, including municipalities, co-operatives, non-profit housing providers, charitable organizations, and developers. Our blend of experience and expertise allows us to provide the fast, efficient, and sophisticated service expected by clients in approaching everything from multi-million dollar portfolios to small projects.
Call or email us now to discuss your opportunity.