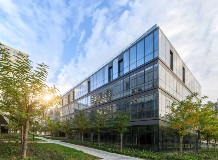 Commercial Real Estate and Development
Robins Appleby has been in the commercial real estate business ever since it was founded over 70 years ago. Robins Appleby was involved in registering the first condominiums in the Province of Ontario after the condominium legislation was passed in the late '60s. The firm has been representing private and institutional commercial owners and developers of residential, industrial and retail properties since its inception.
Today, Robins Appleby continues to represent new builders and owners, as well as experienced developers and asset managers. These days, commercial owners are becoming developers by repurposing their properties and accessing excess lands. Developers are becoming commercial owners when developing mixed-use projects and retaining ownership of the commercial or retail components to create diversity in their portfolio.
Robins Appleby is also a major player in the non-profit/affordable housing fields. We provide much sought after advice to both developers and non-profit housing providers in this high demand area.
The Real Estate Group, in addition to our commercial and development practice, has a significant lending expertise, representing major lending institutions such as Bank of Montreal, Laurentian Bank, Royal Bank, Atrium Mortgage Investment Corporation, Meridian Credit Union, and many other institutions. These lenders seek our assistance because of the depth of both our legal and practical experience in commercial real estate. We help them fund transactions securely, and we are there to help them cross the finish line where other law firms may put up roadblocks to closings. Simply put, the members of our Commercial Real Estate and Development Group are deal makers, not deal breakers.
Our connections throughout the lending, development, and property ownership sectors allow us to both bring people together and also establish credibility when we are representing clients. Credibility and trust are the values we live by as lawyers. Our firm prides ourselves on both of those qualities.
Our clients also benefit from:
Cross-practice support - Together with our Tax Group and Business and Transactions Group, we ensure that clients achieve effective ownership arrangements with tax-friendly structures. Our Litigation and Dispute Resolutions Group's expertise in real estate litigation is available if disputes arise.
Law Clerk expertise – Our highly trained real estate law clerks effectively process all types of commercial acquisitions and sales, loan transactions, and condominium and new home sales and closings. This expert support provides clients with excellent and cost-effective services.
BRIDGE Network – We are part of a national real estate referral association providing real estate legal services in Montreal, Toronto, and Calgary.
Our unique blend of experience and expertise allows us to provide the fast, efficient, and sophisticated service expected by all our clients, whether with multi-million dollar portfolios or small projects. Most importantly, we never forget the bottom line – our clients want to get the deal done, and it is up to us to find the best way to do it.
Call or email us now to discuss your opportunity.