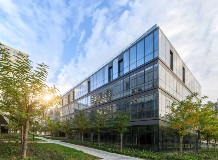 General Commercial Real Estate/Construction Services
Construction Contracts
Robins Appleby provides advice on construction contracts across the spectrum of delivery methods - Stipulated Price, Construction Management, Construction Management at-risk, and Design-Build.

The group also deals with other forms of construction and development-related contracts such as Crane-Swing Agreements, Tie- Back Agreements, Limiting Distance Agreements, Architect and Consultant Contracts.

Our lawyers have advised clients on OAA, CCDC and various types of construction contracts related to modular construction.

Our Affordable & Social Housing co-leads have hands-on experience with construction projects as general counsels of Toronto Community Housing Corporation (TCHC) Moreover, John Fox directly managed large projects as VP of Development at TCHC and as President of Batawa Development Corporation. This operational knowledge allows our lawyers to provide practical and strategic legal advice on your construction projects.
Acquisitions and Sales
Purchasing commercial property can be among the biggest investments a company or individual will make. Whether our clients are buying or selling development property or an income-producing property, our lawyers skillfully negotiate the transactional documents to ensure our clients achieve their goals and get the best deal possible.
The Commercial Real Estate and Development team has vast experience advising clients, including entrepreneurial and institutional investors, on purchasing and selling income-producing and/or operational properties of various asset classes, each with their own unique considerations. Our experience includes the purchase or sale of:
shopping centres;
office towers;
retail and commercial properties;
industrial properties;
apartments and multi-unit residential buildings;
assembly sites comprised of multiple residential, commercial and/or mixed-use properties;
vacant land; and
potential condominium, subdivision or infill sites
Whether purchasing or selling a real estate asset, one of the key things that our group will assist you with is developing individualized agreements of purchase and sale that are customized to your needs. There is no "one size fits all" approach to real estate transactions, and our team's vast knowledge and expertise allows us to individually tailor these agreements to account for any property-specific issues that may arise.
For our clients who are selling real estate, our team works collaboratively with them and any listing agents to maximize the value of the property. This includes cleaning up title prior to the property being listed, which minimizes negotiating points for potential purchasers.
On the purchase side, our team will review title and search various governmental and quasi-governmental agencies (often known as "off-title searching") to ensure that there are no defects with the subject property which would be the purchaser's responsibility after closing. As opposed to some law firms that will simply do every search available (which results in higher disbursements and legal fees), we work with our clients to determine the most cost-efficient process which is appropriate for the property class and the client's risk-threshold.
Robins Appleby's Commercial Real Estate and Development Group also has significant lending expertise to assist purchaser clients with obtaining and dealing with financing for their acquisitions, and later for their construction facilities. Our lending group's relationships with various major lending institutions can bring people together and establish credibility for purchasers who are new to the real estate industry, and we regularly rely on connecting purchasers and lending institutions to create deals that would not otherwise be available for those purchasers.
Finally, our team assists in creating and negotiating ownership structures, which include joint ventures, ground leases, limited partnerships, preferred equity arrangements, and participating loans. Our clients are frequently seeking partners, whether passive or active in purchasing /developing properties. Together with our tax group, we can assist in creating the most tax-efficient structure ensuring compliance with corporate and other regulatory requirements.