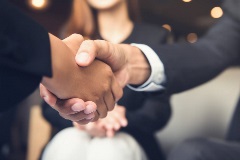 The private equity lawyers at Robins Appleby, part of the firm's Business and Transactions Group, provide insightful, timely and actionable legal advice as well as sophisticated strategy to clients at every stage of the private equity investment lifecycle. Our private equity lawyers at Robins Appleby operate out of Toronto—Canada's financial and deal-making capital.
From forming a fund to structuring and negotiating acquisitions and co-investment arrangements, to advising on exit strategies for investments and return of capital to investors, our private equity lawyers help clients with every stage of private equity deals. From fund managers to private investors, clients of Robins Appleby benefit from our wise, dynamic, and practical counsel.
All throughout the private equity investment lifecycle, our private equity lawyers keep two important goals in mind:
We help fund managers manage risk tailored specifically to their own risk tolerance, understanding how to mitigate unacceptable risk while remaining practical and goal-oriented
We give fund managers the legal tools to maximize the fund's return on investment
Importantly, the private equity lawyers at Robins Appleby are client-focused, nimble and cost-effective. Our wheelhouse is the mid-market, because we deliver great value to our clients.
Within the private equity space, we have a laser focus on a group of key industry sectors that are always in demand, regardless of whether or not the economy is booming—or which way the wind is blowing. Our private equity lawyers have experience in and focus on the following five strategic industry sectors:
Agri-Food;
Biotech;
Manufacturing;
Pharmaceuticals; and
Wholesale and Distribution
In addition to private equity deals, the other services within Robins Appleby's Business and Transactions Group include:
The private equity lawyers at Robins Appleby are members in the Canadian Venture Capital Association (CVCA) and the Association for Corporate Growth (ACG), the two most important associations for private equity in Canada.
Robins Appleby Private Equity Lawyers Have the Experience to Help You
The private equity lawyers at Robins Appleby advise funds, venture capital and private investors alike, and can assist you with these specific funding stages:
Buy-outs;
Capital investment;
Due diligence;
Exit strategy;
Fund structuring, including fund-of-funds formation;
Negotiation and drafting of partnership, trust, management, and other principal fund agreements;
Joint ventures;
Negotiation of subscription agreements and side letters;
Portfolio management, including buy-and-build strategies;
Private placement regulation, tax, and other regulatory compliance matters associated with confidential information memoranda and fund marketing documentation;
Sales and liquidity events;
Spin-offs;
Tax Planning; and
Our Private Equity Lawyers Have Worked with Clients Just Like You
The private equity lawyers at Robins Appleby represent a broad spectrum of clients including private equity firms, cross-border investors, management teams, targets, financial advisors, senior and mezzanine lenders, venture capital firms, entrepreneurs, and financial institutions.
We represent both sponsors and investors in connection with the establishment of private equity investment vehicles and venture capital funds domestically and offshore. Our private equity lawyers are knowledgeable about current market conditions and trends. They bring extensive experience in many relevant areas including partnership and limited liability company law, tax, and investment companies.
Importantly, our private equity lawyers steward our clients seamlessly through acquisition targets. We are skilled at negotiating and drafting letters of intent, asset purchase agreements, share purchase agreements, shareholder agreements, employment agreements, stock option plans and option agreements, and the myriad of documents involved in an acquisition or sale. For more than 70 years, we have helped clients complete acquisitions successfully.
The clients of our private equity practice are Canadian, U.S. and international and comprise:
Boards of directors;
Debt providers;
Family offices;
Funds;
Limited partners;
Management teams;
Private equity firms;
Strategic purchasers;
Target companies; and
Venture capital providers and investors
Contact us today to discuss your private equity opportunity.