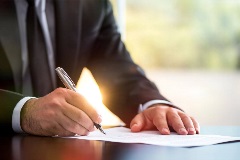 Estate and Trust Planning, Wills, and Powers of Attorney
We advise our clients on all aspects of estate and trust planning. Through the use of multiple wills, trusts and powers of attorney, we structure the transfer of wealth from one generation to the next while minimizing the tax cost and balancing personal family goals and concerns.
We have expertise in:
drafting wills, powers of attorney, living wills and trusts including family trusts, alter ego trusts and joint partner trusts;
designing and implementing succession plans that facilitate a smooth transition of family business assets to the next generation;
resolving family disputes;
structuring estate plans that minimize income tax and probate tax;
structuring tax-efficient charitable donations;
implementing estate freezes;
drafting domestic agreements, including co-habitation and marriage contracts; and
working with advisors in other jurisdictions to address multijurisdictional estate planning issues
The Personal Information Form
Robins Appleby is pleased to provide individuals a complimentary resource that helps collect your personal, financial and legal information into a single, organized, and secure document.
This Personal Information Form:
Amalgamates a variety of key personal details into a single seamless document
Can be used by a personal representative or family member when you are incapable or unable to deal with your affairs
Facilitates [and educates] personal representatives or family members who are not familiar with your day-to-day operations
Ensures that matters can be dealt with quickly and seamlessly
Is an excellent to tool keep all your information up-to-date and it is only held by you and therefore, completely secure. Simply print, fill out and store somewhere safe, or save a copy to your personal computer to be updated as necessary