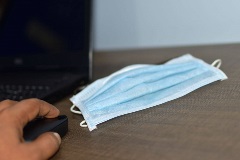 The Robins Appleby "Real Estate Workout/Enforcement" Team Helps Lenders, Developers, Contractors, Landlords and Tenants Grapple with the Impact of COVID-19 "
We all recognize that the economy is suffering from COVID-19 virus and the real estate industry has been hard hit.Government emergency measures implemented to defeat the virus are a step in the right direction. But lenders, developers, contractors, landlords and tenants are all experiencing major challenges as both the flow of funds and the progress of construction are interrupted. Commercial and residential transactions are being jeopardized as financing dries up and values fall.
Our Real Estate Workout/Enforcement Team at Robins Appleby LLP provided practical legal/business advice to our clients in the real estate industry during previous crises and we are ready to do it again. We are equipped to provide our clients with innovative strategies to face the upcoming challenges. Our multidisciplinary team can:
Assist financial institutions to restructure problem assets, loans and related security;
Represent borrowers in negotiations with lenders for financing, refinancing and debt restructuring;
Provide owners/purchasers with guidance in acquiring/disposing real property in problem transactions;
Bring borrowers, lenders and potential equity partners together;
Structure innovative ownership vehicles, equity financing and other conventional financing;
Represent receivers, lenders, borrowers, purchaser groups and other stakeholders in enforcement and receivership proceedings;
Resolve disputes among property co-owners through negotiation or litigation; and
Provide tax planning advice to better manage declining asset values and debt restructuring. (See our recent bulletin on FAQ - Tax Planning Opportunities in a Down Market)
The COVID-19 pandemic is unprecedented, but its impact on the real estate industry is not. From 1990-1995, real estate values fell anywhere from 25% for existing commercial properties or developments, to 50% or more for undeveloped land. The 2008/2009 financial crisis essentially froze financial and real estate markets for close to one year. Today, no one knows how the economy will end up at the other end of the pandemic. In the interim, credit is either drying up or becoming extremely expensive. Income producing properties, particularly retail and commercial ones, face loss of tenants and potential bankruptcies. This has led to great uncertainty.
There will be no easy solutions for either lenders with projects experiencing cost overruns and falling values, or for borrowers facing possible refinancing requirements or covenant breaches.
As we did in 2008/2009, Robins Appleby LLP offers an experienced and integrated team of litigation, real estate and corporate/tax experts ready to assist lenders, owners and tenants with the current liquidity and development crisis.
Contact information for our team leaders appears below: